Tuesday Talks (25)
14 December 2021 / Tuesday / 12.30
METU Faculty of Architecture, Room: 28 (R28)
Dr. Milan Husar
Title: A Modern City (Brasilia, New Belgrade and Petrzalka - A District of Bratislava)
Dr. Husar is going to talk about the ideal of a modern city in 20th century and demonstrate the modernist ideas on three examples – Brasilia, New Belgrade and Petrzalka. The presentation involves:
· Defining a modern city as a legacy of the 20th century as some of the greatest emancipation projects in human history including its triumph and catastrophes;
· Telling the story of Brasilia and its Plano Piloto in the jungle as the simplest reflection of Cabral's cross;
· Discussing the ideals of Tito's brotherhood and unity as epitomized in huge New Belgrade urbanist project;
· Explaining the attempt to build an egalitarian settlement in Bratislava on the opposite end of the Danube River and its current status.
Dr. Milan Husar is a lecturer and researcher at Spectra Centre of Excellence of the EU and Department of Spatial Planning, Institute of Management at STU Bratislava. He has participated in a number of national and international research projects covering topics of smart cities, biodiversity protection and spatial planning. He has a PhD. Degree in urban planning (2016). As a Fulbright Scholar spent 6 months at Arizona State University working in Centre Behaviour, Institutions and the Environment founded as a sister centre of the Vincent and Elinor Ostrom Workshop in Political Theory and Policy Analysis at Indiana University, as well as other research stays across Europe.
Please note that the meeting will be held in a hybrid format.
Attending the lecture face-to-face requires registration, please send an email to efeoglu@metu.edu.tr
Topic: Tuesday Talks (25), 14.12.2021 - Dr. Milan Husar
Time: Dec 14, 2021 12:30 PM Istanbul
Join Zoom Meeting
https://zoom.us/j/95155096249?pwd=aC9CRnJsb0JqVkpxS3Fkb0pVbmN6Zz09
Meeting ID: 951 5509 6249
Passcode: 478061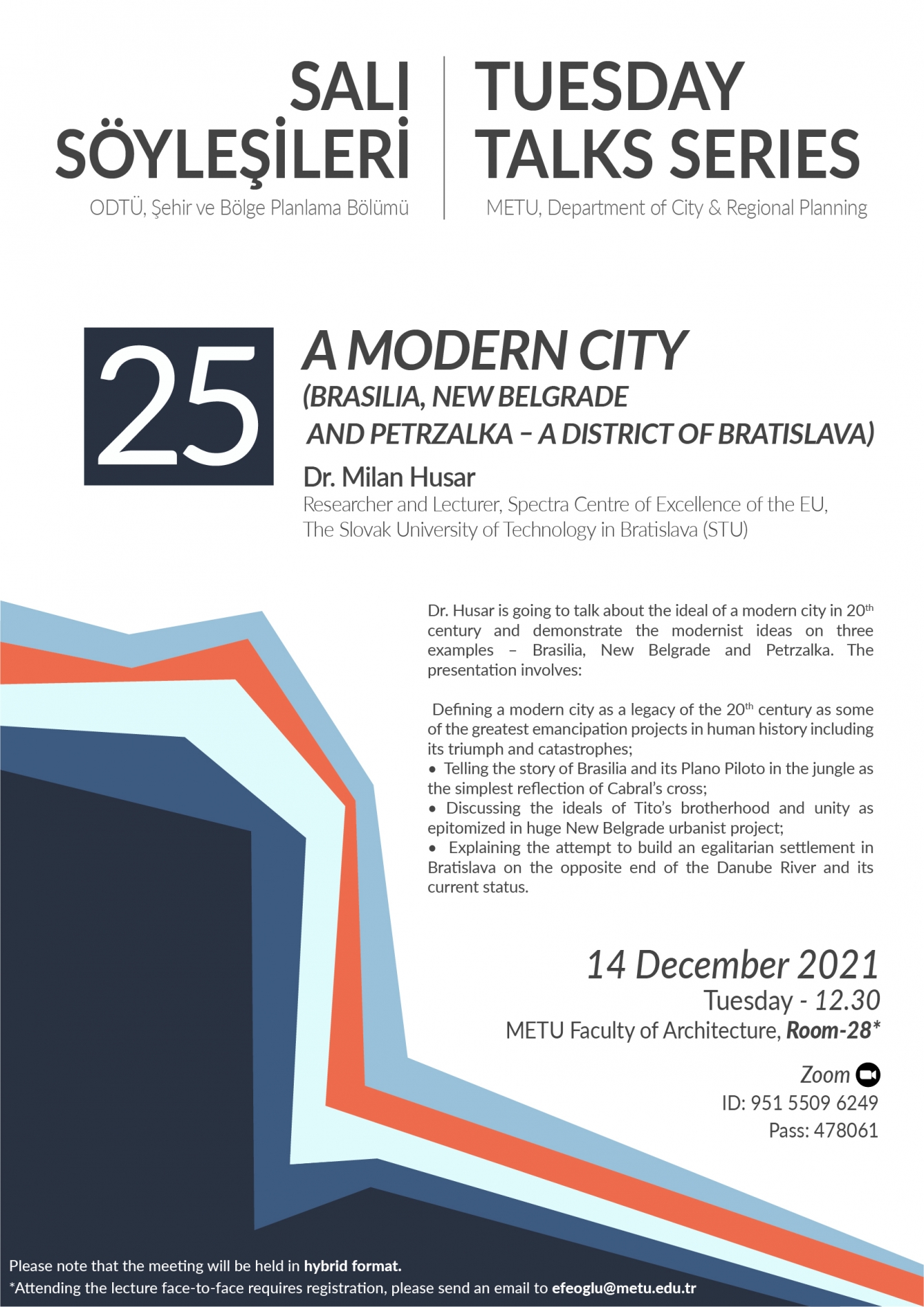 ---
Last Updated:
02/12/2021 - 17:36